Letsgoph.com | SM City Pampanga is one of the few SM malls' designated locations included in the Startup Market in the region. The Start-Up Market features ten local micro-small-and-medium entrepreneurs (MSME's) in the community who started selling their products online. These highly potential entrepreneurs now have a physical store in the mall to expand their business ventures.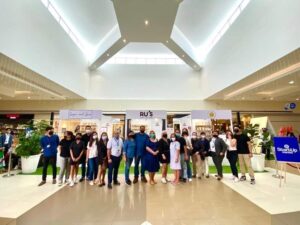 SM City Pampanga Start-Up businesses include New. Essentials PH offers display and organizing storages with minimalist and elegant-looking customized labels; Einstein's Art offers hand-painted bags and accepts commission works, turning customers' bags into customized art bags; Cut and Paste offers personalized stationaries such as notebooks, planners, sticky notes, and other accessories for scrapbooks; and Prism offers hand-made tie-dyed shirts, bucket hats, drawstring bags.
Sugar and Spice serve baked goodies such as the famous Sea Salt brownies, cookies, cheese & carrot cakes, and curated pastry sets; Milk Dangooo offers Mochi filled flavored pastillas; Coffee lovers must try Daily Dose Coffee, offering crafted bottled coffee and coffee brownies; relatively new in the business is Luna's Thai Delicacies offering sweet, creamy, salty and tangy mango sticky rice with a twist, adding up variants like ube, monggo, and yema; Starting on a healthy but delicious food? Ketoffage Creation is your choice offering healthy options that boost immunity, promote healthy digestion and detoxify the body; Ru's Craft Ice Cream started as a home business offering home-made Ice Cream with unique flavors such as Okinawa Milk Tea, Dolgona, Korean Melon, Leche Flan & Salted Caramel.
These MSME's now have a venue to showcase local and novel products via the Startup Market. Shoppers, on the other hand, will get to physically enjoy and choose from a wide variety of local products at SM City Pampanga Ground Level near H&M until January 2023.