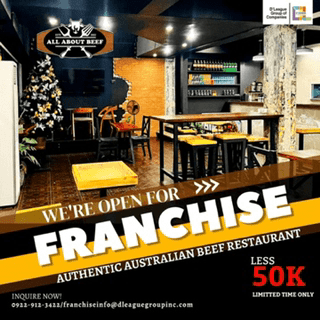 Letsgoph.com | While steakhouses serving local steaks are dime a dozen, All About Beef (main branch) restaurant in San Fernando, Pampanga is making a name for itself for serving authentic Australian beef.  Its menu features dishes with beef such as beef shawarma, burger patties, nachos, pasta, and more. Its main draw however remains to be its unlimited Australian steak offering. It is something that not every steakhouse can lay claim to.
The beef it uses is fresh and not frozen. In fact, the grass -fed cows are locally fattened and slaughtered. Furthermore, the Australian government keeps an eye on the whole process as Australian beef ranks among the highest quality beef in the world.
The restaurant is one of the five company- owned brands under the seventeen brands D' League group of companies has under its belt.
"We started last July (2022) but are currently building five branches – in Angeles City, Magalang, Mabalacat, Guagua, and Floridablanca. Our main strength is that we have our own logistics company thus we can expand anywhere in Luzon to provide our distributors and dealers. We have leads for expansion in Metro Manila, Cavite, and Laguna, and more", CEO of D' League group of companies Neil Angelo Sicat added.
The Man with a Mission
Before becoming the business giant that he is today, Neil started out as a humble siomai vendor with a three thousand pesos in capital.  In less than a month of studying the franchising business, he launched and franchised a food cart business and soon applied the concept to the milk tea business. He was able to capitalize success upon success until the Covid -19 pandemic disrupted everything.
With a heart to serve his countrymen, he organized CARed Pool Pampanga which mobilized private individuals to provide free transport services and food to frontliners. He also started a program for daily wagers- Pamisaupan Kapampangan, long before the concept of community pantry started.
"I needed a sustainable foundation that is why I launched D' League group of companies so I don't have to ask for donations, instead I can provide and sustain the foundation through the income of the different companies that we have." Neil voiced.
Neil attributes his mental fortitude to being a former seminarian for eleven years. "People think when they enter the seminary it is for a purely spiritual purpose only, but the training is psycho-spiritual. It is more on psychological development, to see things in a positive way combined with spirituality," he said. This mindset has enabled him to overcome challenges along the way and steer his business to greater heights of success.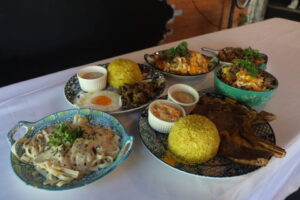 Filling a Need in the Market
When the CEO came across the Netflix series Start- Up in 2020, he had a lightbulb moment. In 2021, he launched the D' League group of companies.  It differentiated itself from other companies by being a one stop shop service provider ranging from consultancy, incubation, construction, and marketing. Its goal is to control quality and standards of services that are not being outsourced. Basically, it is a solution-based company as it provides answer to every problem or possible problem of a franchisor.
Thinkbizz Trading Corporation, a subsidiary of D' League group of companies and the owner and distributor of Aussie Beef, is a member of the Associated of Filipino Franchisers Inc. (AFFI). Being affiliated with AFFI has its advantages. "We had a wider network, and through the partners and through the mentorship of the founders and board members, we learned the right way of doing franchising business," the head honcho added.