Letsgoph.com | Allianz PNB Life's commitment to sustainability stretches further into health and wellness through its recent partnership with Saddle Row, a boutique fitness studio that develops tailor-fit indoor workouts for clients, such as cycling, rowing, and other modalities. The two organizations signed a Memorandum of Agreement on November 14, Monday.
Present at the signing were Allianz PNB Life President and CEO Alexander Grenz and Chief Marketing Officer Gino Riola. Representing Saddle Row were Founder and President Jammy Honrado and Corporate Sales Head Ting Joson.
"For Allianz PNB Life, this is more than just a partnership. We really want to pursue sustainability by way of physical and mental wellness, so what we're doing is we're looking at like-minded organizations like Saddle Row," said Riola. "Sustainability is incredibly important to us. It's not just about taking care of the environment, like what everyone is familiar with. It's about making choices that secure your future and that of the next generations, so health and wellness are also part of that."
"We just felt that the two brands have the same vision and mission, which is to give everybody a better life," said Honrado. "We both aim to promote sustainable lifestyles, so we thought that we complement each other."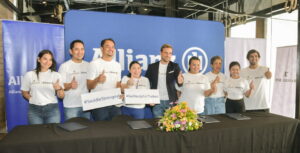 According to Honrado, Saddle Row focuses on developing workouts that are sustainable, with the goal of helping customers set and achieve goals for the day. "It's not everyday wherein all of us feel like going for a hard workout," she said. "From our array of classes, there are different intensities and different kinds of movements, like yoga to cycling or rowing, and you get to choose from that. So, it's about getting to know yourself, what you really enjoy, and what's sustainable for you in terms of maintaining your health."
This aligns perfectly with Allianz PNB Life's vision of sustainability and securing the future. The partnership shares similarities to Ride Safe, the company's existing sustainable transport campaign. Just as Saddle Row supports the development of a sustainable yet healthy lifestyle through movement and exercise like indoor cycling, Allianz PNB Life encourages Filipinos to do the same by pursuing physical activities like biking through Ride Safe.
Through the partnership, Allianz PNB Life and Saddle Row will be able to take their vision of sustainability further.
"Saddle Row's customers are similar to Allianz PNB Life's. Both are concerned with their health and are taking active steps in ensuring that this is protected," Riola stated. "Working together with Saddle Row, we are exposing their customers to the benefits of life and health insurance. It's not enough that one is working on their health goals; they need protection too, which is what Allianz PNB Life provides."
"We believe we complement Allianz PNB Life in a way where we're assisting them in promoting a better, healthier lifestyle for their customers as well," Honrado added. "It's not just about not getting sick, it's not just preventative…it's about 'how can this protection be part of my life?' I think that's why Allianz PNB Life feels like we're a good match. It's because we foresee the problems people can develop if they don't pursue health and wellness, and we're here to assist them before it happens."
Allianz PNB Life and Saddle Row are kicking off the partnership with a Christmas Challenge Card, which will run from November 14 to December 31. Challengers will be tasked to collect stamps on their challenge card by attending the classes as stated on it. The first 50 participants to complete their card will be awarded with Sodexo gift certificates worth Php 500, and all challengers will be eligible for a raffle sponsored by Allianz PNB Life.
In terms of other plans for the partnership, Allianz PNB Life and Saddle Row are also looking at Allianz PNB Life-sponsored classes, where the importance of insurance will be shared and discussed with participants. A Life Changer agent will also be available for consultation to Saddle Row customers who are interested in Allianz PNB Life's insurance offerings.
"We're happy to be partnering with an organization that shares the same values as us," said Grenz. "There's so much we can do together, so many opportunities in terms of growing our customer base and generating awareness for the brand and our advocacy that are being opened to us through this. We're definitely looking forward to what this partnership with Saddle Row holds for us in future."
Since 2019, Allianz has been recognized as the number one insurance brand in the world. As a leading insurance provider, Allianz PNB Life's products and services are designed to meet the lifetime financial planning, wealth accumulation, and well-being aspirations of Filipinos. For more information, please visit www.allianzpnblife.ph.