Letsgoph.com | Just in time for your parties and get-togethers this Christmas, Eastwood Richmonde Hotel has prepared an array of delightful sweet and savory bites to share and enjoy. Choose from freshly baked treats and mouth-watering savory meats to serve at your celebrations or gift to family and friends.
Crave-worthy and simply yummy, Richmonde's signature pastries are all-time bestsellers for a reason. Soft, oversized, and ultra-cheesy, the hotel's classic plain ensaymada (PhP 195/pc) and ube ensaymada (PhP 225/pc) are great snack choices that go best with a steaming cup of coffee or hot tsokolate. If you want smaller servings, there's the mini ensaymada in boxes of 6 and 12 pcs, also in plain (PhP 225/PhP 450) and ube (PhP 255/PhP 510) variants. For the perfect dessert to end your feasts, the moist and fudgy Richmonde Chocolate Cake can be ordered in two sizes—4" (PhP 235) and 8" (PhP 745).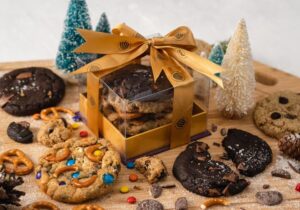 For an easy gift for anyone with a sweet tooth, get Richmonde's Christmas Cookies in boxes of 4 (PhP 495) and nibblers in packs of 6 (PhP 150). They come in Sea Salt Double Chocolate, Oatmeal Craisin, and Santa's Pantry flavors. For more sophisticated sweet treats from the pastry kitchen, there are fancy chocolate bars with unique but delectable flavors which include White Chocolate and Ube Marshmallow (PhP 695), Dark Chocolate with Dilis (PhP 315), and Milk Chocolate with Roasted Cashews and Candied Pili (PhP 415). To bring some Yuletide flair to your holiday meals, order the Christmas Tiramisu (8", PhP 2,225) for scrumptious layers of happiness in every bite.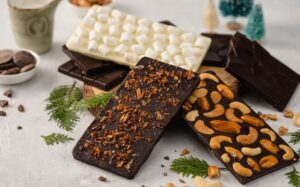 Warm, freshly baked bread will always be a great go-to snack when hunger hits. Get these tasty loaves from Richmonde for a satisfying snack you can enjoy as is: Banana Chocolate Chip & Walnut Bread (PhP 385), Chocolate Pistachio Babka (PhP 495), Kesong Puti, Tomato & Basil Focaccia (PhP 215), and Brioche (PhP 285).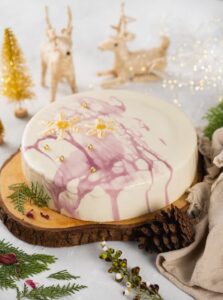 What's Christmas without ham? Preparation is easy with Richmonde's holiday hams so don't forget to add it to your order list. Choose between the 1.5kg Muscovado Ham (PhP 2,125) that's bursting with salty-sweet flavors, and the 1.2kg Chicken Ham (PhP 1,575) for the calorie-conscious. A petite-sized portion of 300g Sliced Muscovado Ham (PhP 525) is also available.
If you wish you share the joy of delicious food this season, simply order Eastwood Richmonde's Holiday Hampers of assorted goodies packed in a chic purple box. The Sweet and Savory Christmas Bundle (PhP 1,615) includes 300g of sliced muscovado ham, a brioche loaf, 2 jars of jam, and a miniature bottle of Australian Merlot. The Baked Yuletide Bunch (PhP 1,450) has a loaf of banana chocolate chip and walnut bread, 2 pcs of Richmonde's ensaymada, a pack of cookie nibblers, and tsokolate tablea.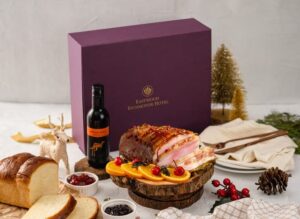 Eastwood Richmonde Hotel's holiday goodies are on display at the Lobby Lounge and are available for pickup and delivery within Metro Manila until January 7, 2023. A minimum lead time of 48 hours is required. For orders and inquiries, call +632 8570 7777 or +63 917 821 0333. For deliveries, applicable fees will be charged and added to the total amount due. Other terms and conditions apply.