Letsgoph.com | 2023 is here and in full swing! Whether you're still feeling the holiday hangover or already welcoming the new year with a new you, there is surely a mix of perfect  songs to encapsulate your mood. To celebrate the new year and add a soundtrack to your 2023 feels, Spotify is launching a timely user experience to help you capture this moment.
Playlist in a Bottle, Spotify's latest interactive in-app experience, captures who you are musically right now and then lets you revisit your 2023 musical self one year later. Fast-forward to January 2024, and you'll find this playlist on your account as a treat from Spotify and your 2023 self.
Here's how to make your Playlist in a Bottle:
Ensure your Spotify mobile app is up to date with the latest version.
Click spotify.com/playlistinabottle from your mobile device.
Select your time capsule of choice—you can pick from a bottle, jean pocket, gumball machine, lunch box, or teddy bear.
Answer a series of song-inspired prompts. For example:
"A song you're going to kiss someone to this year"
"A song that reminds you of your favorite person"
"A song you need to hear live in 2023"
5. Digitally seal your musical time capsule and send it off!
6. Share a personalized card to your social channels with the tag #PlaylistInABottle.
7. Come January 2024, if you made a Playlist in a Bottle, you'll receive your personalized time capsule reminding you what you were listening to one year prior.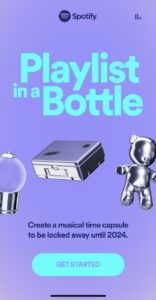 Playlist in a Bottle is available in the Philippines for both Free and Premium users across iOS and Android devices. Do it soon! Spotify will seal the Playlist in a Bottle experience on January 31st!
For more information about Playlist in a Bottle, and other delightful announcements from Spotify, visit www.spotify.com or follow Spotify on Facebook, Twitter and Instagram.