Letsgoph.com | Towards a clean, green, and disaster-resilient Philippines. Members of the public and private sectors share meaningful insights on how they can work together in crafting and implementing policies and programs toward climate and disaster resilience and sustainable development at the opening of the 2022 DENR Multi-Stakeholder Forum at the Diamond Hotel.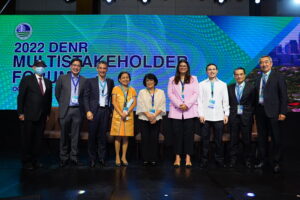 SM Prime Holdings' Hans T. Sy converged with the national government and key business leaders at the opening day of the first multi-stakeholder forum organized by the Department of Environment and Natural Resources at the Diamond Hotel on October 5, 2022.
"My vision for the environmentally resilient Philippines is simply a clean, green, and disaster-resilient country. The priority is for all sectors to be in solidarity, engaging and working together with the survival of the planet, and ourselves, in mind," said Sy, chairman of the Executive Board at SM Prime.
During his talk, Mr. Sy noted that having a solid tripartite system, composed of the government, the private sector, and the academe, is crucial in environmental resilience research and innovations, policy, education, budget, and tax among others.
"The government is not alone in nation-building. The private sector is here to join you as partners to provide a whole-of-society approach, towards an inclusive, prosperous, and sustainable Philippines."
For businesses, Mr. Sy underscored the value of internal strategic planning to "ensure there are enough resources to last for generations to come." To do that, attention, allocation, and investment in the conservation of natural resources must be included in responsible land development, sustainable operations, good governance, and stable financial structures plans.
On the resilience front, Mr. Sy encouraged the government and the private sector to be prepared for disasters that have become more intense and frequent. "Good urban planning, infrastructure development, and internal processes must have resilience as a priority. To reduce the risk, we must reduce our vulnerability and exposure. We must 'look before we leap' by way of risk-informed decisions."
During the Q and A, Mr. Sy emphasized the point that the government must have open communication with the private sector and that it would be advisable to involve businesses in creating and revisiting policies to ensure compliance. He lauded the DENR for updating some of its policies and furthered that the department may consider having industry-specific policies for businesses, especially SMEs, that may be implemented and adopted widely.
"The DENR can prioritize public-private partnerships to promote the implementation of programs towards a circular economy. We ourselves have plans for an Integrated Waste Management facility. If there is recognition or incentive, it will further encourage more private sector initiatives for innovation," he stated.
Sy, a key figure in the private sector's advocacy for sustainable development, was joined by Mr. Ramon S. Ang, president and CEO, San Miguel Corporation; Mr. Lance Gokongwei, president and CEO, JG Summit Holdings, Inc.; Mr. Federico Lopez, chairman and CEO, First Philippine Holdings Corporation; Mr. Manuel Paolo Villar, president and CEO, Vista Land and Lifescapes, Inc.; and Ms. Mariana Zobel de Ayala, senior vice president, Consumer Bank Marketing and Digital Platforms, Bank of the Philippine Islands, during the private sector's plenary session. Each shared their perspectives about the Philippines being environmentally resilient and what the DENR can do as a development partner.
Prior to the private sector's plenary session, President Ferdinand "Bongbong" Marcos Jr. graced the event and delivered a keynote address. He lauded the private sector's engagement to address climate change and promote green growth in the country.
"Your presence here gives the entire nation hope that we not only have the expertise, but also the commitment, the determination to steer our practices and systems towards a greener direction," the President said.
On the other hand, Environment Secretary Maria Antonia Yulo Loyzaga said in her speech "With your support and under new leadership, the DENR looks forward to charting the course for achieving climate and disaster-resilient, inclusive, green and blue recovery for our nation.
The Department's role is to build the lifelines to resources on land, and in the air and sea, that will ensure inclusive, resilient, and sustainable development. In order to do this, we will need to work with partners to develop integrated strategies for a science-based, risk-informed, ethical, and equitable stewardship of our environment."
Also, the DENR and the Department of Labor and Employment (DOLE) signed an environmental labor agreement to recruit more workers for the government's forestation and coastal projects under the latter's Tulong Panghanapbuhay sa Ating Disadvantaged/Displaced Workers (TUPAD). This was created as part of the DENR's commitment to "creating partnerships and accelerating cooperation and collaboration for the country's resilience."
More than 200 from the private and business sectors, other government agencies, academe, civil society, civic organizations, non-government organizations, and people's organizations, among others, joined the three-day DENR Multi-stakeholder Forum.