Letsgoph.com | It's the best time of the year once again! And even if we won't get snow, you can always have a cup of cheer and an assortment of delectable culinary creations from Richmonde Hotel Ortigas. Executive Chef Tristan Galang and his merry kitchen team have prepared luscious baked treats and savory pies for your celebrations and gift-giving this season.
Take your holiday feasts anywhere and indulge in traditional Yuletide fare when you order Richmonde's Special Hotbox Platters packed in self-heating containers so you can warm up food with ease.  These nostalgic dishes are not only delicious but also great for sharing and perfect for your home celebrations and potluck parties: Salmon en Croute (PhP 2,800), Cottage Pie (PhP 2,400), Shepherd's Pie (PhP 2,555), Chicken Pot Pie (PhP 1,650), and Potatoes au Gratin (PhP 1,620).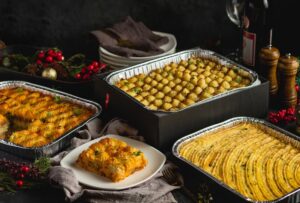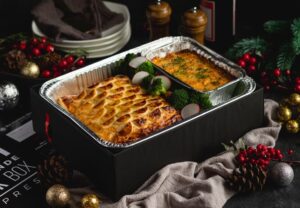 Make the holidays brighter, yummier, and sweeter as you delight in Richmonde's decadent Signature Moist Chocolate Cake (from PhP 250), Flourless Chocolate Cake (from PhP 515), and Red Velvet Cheesecake (from PhP 395), all decked out with Christmas designs. Level up your snack breaks this season and relish these choice fresh-from-the-oven breads—Banana Walnut Bread (PhP 335), Creamy Spinach Baguette (PhP 360), Cranberry Babka (PhP 320), and Coffee Bun (PhP 364/box of 4). Or elevate your trusty toast with Richmonde's Herbed Butter (PhP 200) and Bacon Jam (PhP 265) spreads.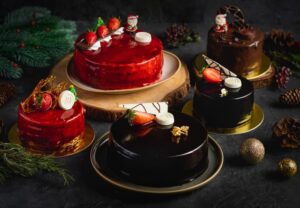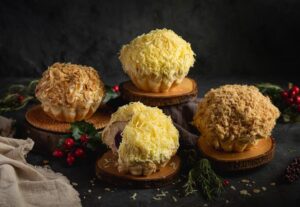 Richmonde's signature year-round hits, the Plain Ensaymada (PhP 195) and Ube Ensaymada (PhP 225), with their soft bread and generous toppings of rich whipped butter and grated cheese, are always a welcome gift. Two new variants, the Pork Floss Ensaymada (PhP 250) and Alcapone Ensaymada (PhP 275), are must-try pastries making their debut this season. Need an ensaymada that's easy to share? The Mini-Ensaymadas in boxes of 4 pcs (Plain, PhP 275/Ube, PhP 315) and 9 pcs (Plain, PhP 600/Ube, PhP 685) are great choices.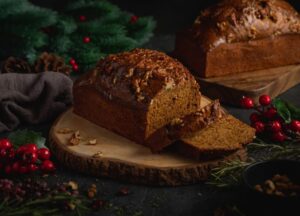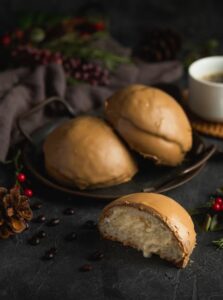 Those extra dear to you will surely love the specially curated Christmas Hampers that consist of an assortment of Richmonde's tasty breads and homemade spreads packed in an elegant see-through box. These scrumptious gift sets come in two sizes. The Box of Freshly Baked Bliss (PhP 1,750) is good for 3 to 5 persons and contains 1 creamy spinach baguette, 1 braided rosemary loaf, 2 coffee buns, 1 mini pork floss ensaymada, 1 mini alcapone ensaymada, 1 jar of herbed butter, and 1 jar of bacon jam. The Hamper of Holiday Happiness (PhP 2,250), on the other hand, is good for 6 to 8 persons with bigger versions of the breads in the Box of Freshly Baked Bliss, plus a loaf of cranberry babka.
See the display of holiday goodies at Richmonde Ortigas' Lobby Café. You can also visit the hotel's official Facebook page to see the complete catalogue. For hassle-free purchases, goodies are available for pickup and delivery until January 8, 2023, with advance orders and prepayment. Lead time of at least 48 hours is required and bulk orders may be arranged.
For inquiries and orders, call (632) 8638-7777, SMS or Viber (63) 917 534 4352, email fbsup@richmondeortigas.com, or message @Richmonde Hotel Ortigas on Facebook and Instagram.