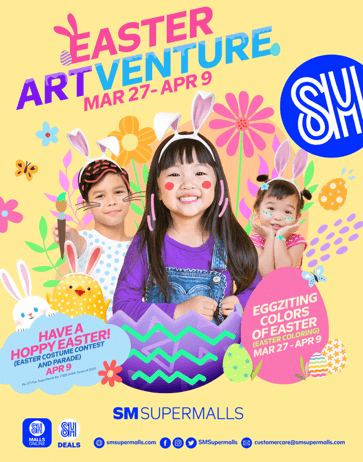 #ExperienceFamTimeAtSM with an EGGziting Easter ArtVenture
Letsgoph.com | Experience a whole lotta colorful Easter Sunday at SM Supermalls this April 9. SM will color your weekend with Easter eggs, bunnies, and all things sunny! And surely, families will enjoy a weekend packed with surprises, activities, and prizes that SM will be giving away. 
Hippity! Rock your colorful costumes at the Easter parade
Hop on to SM Supermalls' Hoppy Easter Costume Contest and Parade and get a chance to win amazing prices! Strut your fun and festive Easter-inspired costume and don't be shy to say 'Hi!' to everyone as you walk at the parade on April 9. To register, visit
https://www.smsupermalls.com/easter-costume-contest/.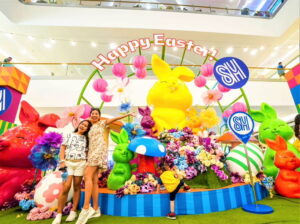 Hoppity! Have fun with colors
Get a little crafty and unleash your creativity at the Easter ArtVenture area. With plenty of colors and art, you and your SuperKids can get your hands dirty (with bright hues and pastel colors!) and explore your artistic side. 
Hop! Capture moments at the Easter installations
Make the best out of your Easter adventure at SM Supermalls and don't forget to capture lots of photos! There will be lots of IG-worthy spaces and TikTok spots so go ahead and have fun posing and making videos all you want.
And after everything you've done, cap off Sunday with a hearty meal with the fam. Easter is a time to celebrate life, and that is a fantastic reason to bring families together. SM Supermalls has a lot of dining areas and selections you can all choose from. Whether you like to dine al-fresco or have an intimate meal together, we've got it all for you!
It's definitely the season to #ExperienceFamTimeAtSM. So, celebrate Easter Sunday festivities with extra fun colors and hop your way to #AWorldOfExperienceAtSM! 
To know more about our malls' operating hours this Holy Week and on all things Easter, check out www.smsupermalls.com or follow @SMSupermalls on social media.