Letsgoph.com | Bringing a new era of retail to its customers, Globe has unveiled its next-generation store in Glorietta 3, Makati City, setting a new gold standard in omni-channel retail formats and sustainable design.
This innovative shop, which places the customer above all, reflects Globe's commitment to revolutionizing the phygital experience, seamlessly merging the best of both the offline and online worlds.
The new Globe Store's design features interactive product demos, a community engagement space, a self-service zone, and a transaction hub. These elements come together to solidify Globe's position as a market leader, offering customers a unique and immersive experience.
Two standout features of the store are the Service Hub and the Social Learning Platform. The Service Hub is tailored to meet the diverse needs of customers, offering a range of servicing methods to ensure every individual finds their perfect solution. Meanwhile, the Social Learning Platform is a space for customers to delve into and expand their digital knowledge, underscoring Globe's dedication to digital education and empowerment.
The store also keeps customer convenience on top of mind, getting rid of the usual service counters and instead creating a less intimidating space for store staff and customers to interact.
There's ample seating and waiting areas, too, in the store, where booths are configured to flow.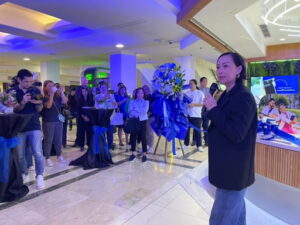 One key store feature is a large multi-user screen where customers may enjoy interactive games themed after interests that Globe supports, such as gaming and K-culture.
"The new Globe Store is not just a retail space.  It is a catalyst for creating memorable customer experiences. We've designed this store to captivate, empower, and connect our customers and offer them services that truly enrich their lives," said Cleo Santos, Head of Channel Management Group.
Mic Coson, Head of Retail Design and Portfolio Growth, added, "Our new design is a game-changer. We've seamlessly integrated the online and offline experience as we want to ensure minimal wait times, experiential retail, and personalized services. Every touchpoint, from product discovery to post-visit engagement, has been crafted with our customers in mind."
The new Globe retail experience was developed together with Landor & Fitch, the largest branding and design specialist group and part of the WPP group.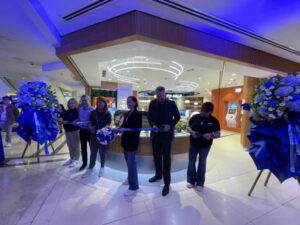 Jonathan Cummings, APAC President of Landor & Fitch said: "As the leading telecommunications company in the Philippines, Globe recognized their role in driving the nation's digital advancement. We were thrilled to take on the challenge of taking the brand forward to meet this purpose by revolutionizing the role of retail. Drawing upon the collective expertise of our global network of experts across retail and telco as well as from other sectors, we set out to create a new generation of human-centric stores that re-imagine the brand experience – empowering Globe's customers through an immersive digital ecosystem, seamlessly blending education and entertainment."
Under the guidance of Executive Creative Director of Experience, Apolline Picot, the design and experience concept was centered around a captivating theme – "Turning Point" – where every twist and turn within the store serves as an opportunity to inspire and enlighten customers with new discoveries.
At these immersive retail stores, the convergence of digital and physical realms offers a gateway to a whole new world of possibilities. From experiencing cutting-edge device discovery platforms to educational digital literacy programs and hands-on learning workshops, every individual is welcome to explore and embark on an enlightening journey of knowledge and innovation within Globe's new immersive retail spaces.
Customers will have options on how to avail of Globe services, from face-to-face interactions at service counters manned by retail specialists to self-service via vending machines and the Care Wall, which provides the unique #AlagangGlobe brand of customer service.
The store also uses very limited printed material, in line with Globe's commitment to sustainability. Particularly, it features all-digital brand advertising through screens around the store, while tablets have replaced paper info cards. This shift not only contributes to saving paper and other resources but also helps in reducing waste. Additionally, the store uses one hundred percent LED lighting for energy efficiency.
With the launch of the Globe next-generation store in Glorietta, Globe reaffirms its commitment to delivering unparalleled customer experiences, blending human-centric innovation with the power of technology.
To learn more about Globe, visit https://www.globe.com.ph/.