Letsgoph.com | The Fernando C. Amorsolo Foundation, Inc. makes a stop at SM City Pampanga with "Project AMORsolo," an exhibition of LEGO® Brick Mosaic artworks to memorialize the 50th anniversary of Fernando C. Amorsolo's designation as the country's first National Artist in the visual arts. The exhibit is open from September 8 to 14, 2022 at the Atrium of Global Fashion Wing of SM City Pampanga.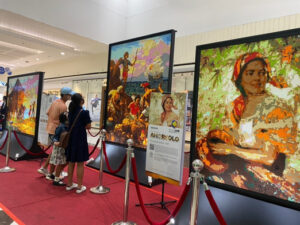 Three teams of LEGO® aficionados worked independently on the plates for three iconic paintings for National Artist Fernando C. Amorsolo as part of the project, which initially started in 2021, under the code name AMOR. Each team built pieces of art that connect the past and the present using only authentic LEGO® bricks, and they strengthened their bonds with other builders to operate as a cohesive one.
Project AMORsolo is a story of love and tenacity that looks to the next generation to create something new from the shards of their history in a family of LEGO® enthusiasts. Through this achievement celebration, the fundamental values of the PinoyLUG—an acronym for "LEGO® User Group"—of dedication, tenacity, sharing, and community building are honored.
Come visit and see the magnificent creations of "Project AMORsolo" at the following malls, SM City Pampanga, September 8–14; SM City Olongapo Central, September 19–25; and SM City Marilao, September 29–Oct. 5, and from October 10 to 16 at SM City Grand Central.