Letsgoph.com | Every year, local and foreign tourists flock in droves to Puerto Galera, a vibrant coastal municipality in Oriental Mindoro about 130 kilometers southwest of Metro Manila. Among the town's biggest draws: its breathtaking dive sites that show off its rich underwater landscape and marine biodiversity and the swathes of semi-white sand beaches.
But it's not only the beautiful seashore nor the exciting water activities that lure people to visit. In recent years, the town's cultural tourism has also begun booming as more tourists come to see and experience the enduring culture and ingenuity of the Iraya Mangyan. At the Talipanan Mangyan Village, tourists can enjoy a guided tour conducted by local indigenous guides where they can experience their culture and learn about their traditions.
The Iraya Mangyan are one of the eight indigenous groups on the island of Mindoro, and they are known for their skill in weaving handicrafts using a vine-type fern called nito, a practice that has long been entrenched in their culture.
At the verdant foothills of Mount Malasimbo in Sitio Talipanan, located approximately 9.8 kilometers from downtown Puerto Galera, lies the Talipanan Mangyan Village that is home to at least 200 Iraya Mangyan families. This close-knit community has been reinforced with the help of Ayala Foundation in partnership with the Sisters of Charity of St. Anne.
The foundation has been supporting the Iraya Mangyan group since 1989 by providing education, housing, health, and livelihood programs, empowering them to become more comfortable to deal with the wider society and explore more opportunities while preserving their rich, longstanding culture.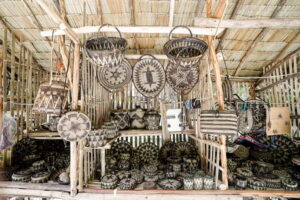 In this quiet village, the indigenous artisans do much of their weaving activities on-site, handcrafting an assortment of timeless and functional pieces including baskets, coasters, trays, jars, and hampers, among others that they would later sell to tourists who come to their village. Aside from providing livelihood training to enhance their skills and give them more opportunities to showcase their art, the Ayala Foundation has helped the Iraya Mangyan reach a wider audience and has made their products available in Greenbelt 5, Glorietta 2, Alabang Town Center, and various bazaars.
Irene Sundalo Pampilo, 38, has been weaving nito baskets for 13 years now. Besides being her main source of income, weaving, she says, also enables her to showcase the ingenuity and craftmanship of the Iraya Manyan group, which is essential in keeping their culture alive.
"Bilang isang Iraya Manyan, gusto namin na malaman ng mga Pilipino na kami ay may kulturang ganito na amin pang minana sa aming mga ninuno at hanggang ngayon ay patuloy naming ginagawa para sa ikauunlad ng hanapbuhay," she said.
Narda Delloba, 36, has also been weaving baskets for 26 years now. "Sampung taong gulang pa lang ako tinuruan na ako ng aking magulang maghabi ng basket," she said, "Hanggang ngayon dala-dala ko pa ang tinuro nila sa akin at sana ay magpatuloy at tangkilikin pa ng mga kabataan ngayon."
The Iraya Mangyan weave their designs from the heart, and each design or pattern is unique to a certain weaver, making each piece truly one of a kind.
Overcoming barriers
The sustained support of Ayala Foundation has given the Iraya Mangyan an opportunity to overcome barriers. Its work with the community is part of the foundation's mission to nurture faith in the Filipino and pride in our rich cultural heritage.
Having moved to their permanent settlement at the Talipanan Mangyan Village, the Iraya Mangyan have gained greater access to formal schooling, providing them with additional knowledge and skill to take on wage work and enabling them to become more comfortable in dealing with the wider society.
They can now go to town by themselves, pursue higher education in Calapan, and avail themselves of health and other services through the local and national government. They are also more fluidly integrated in local institutions of health, economy, and governance, exposing them to greater change in , health, and subsistence practices. Currently, the Iraya already have an elected barangay kagawad, with two more who are running for kagawad and another running for a Sangguniang Kabataan post in the upcoming elections. The community has also produced seven licensed teachers who now work with the Department of Education.
Through holistic interventions, Iraya Mangyans are now more empowered to shape their future and foster a sense of pride and self-sufficiency among themselves.
Cathrina Silaan, 32, is one of the graduates of the scholarship program. She said, "Kahit kami katutubo, pwede rin kaming mamuno," she said as she reflects on how Ayala Foundation shaped her and expanded her knowledge through activities such as camping, fellowship events, and leadership seminars.
With land tenure, shelter, food, health services, and schooling, the Iraya Mangyan can continue living together in good health. It also makes it more possible to pass down their knowledge and traditions to their children as well as continue some of their ethnoscience. The establishment of Talipanan Mangyan Village overall contributed to preserving the culture of the Iraya Mangyan.
As the country marks Indigenous People's Month this October, the story of the Iraya Mangyan is a testament to the strength and resilience of our indigenous communities across the Philippines. Their journey reflects the National Commission on Indigenous Peoples (NCIP)'s chosen theme for IP Month "Pagpapayaman ng Pamanang Kultural at Katutubong Yaman Tungo sa mas Maliwanag na Kinabukasan para sa Bagong Pilipinas" which emphasizes the importance of preserving and enriching cultural heritage through community support.