Letsgoph.com | The hottest chicken is finally in town! Ray's Hot Chicken is targeting to conquer the emerging fried-chicken sandwiches scene in the metro with its affordable, straightforward, crispy, hot, and juicy chicken sandwiches, with a sizeable serving.
Ray's Hot Chicken started as a food delivery service last September 2020. "We were supposed to open early 2020 but got delayed due to the pandemic," said founder Zark Varona.
Re-evaluating their strategy, Varona said they saw an opportunity to introduce a 24/7 delivery concept. This allowed the team to bring new food products in the middle of the pandemic that would address the cravings of Filipinos for tasty and surprisingly filling meals that are delivery friendly.
"At the height of the lockdowns, dine-in transactions almost became impossible, but food cravings remained, so delivery was the best option, especially for work-from-home individuals," said Varona.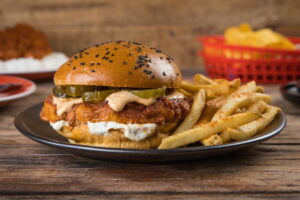 "This is the reason we launched Ray's at that time. This was a 24/7 food delivery concept that was open for franchise. And we were overwhelmed by the reception. Our customers loved our food and the concept behind our creations. Now, we are expanding our brand by opening physical stores across the metro," he added.
Ray's Hot Chicken specialize in Nashville style Hot Chicken, which is dipped in chili oil and its very own Nashville hot seasoning. This signature crispy chicken sandwich features a massive slab of crispy boneless chicken coated in their original spicy seasoning. It's sandwiched in fluffy tasty buns and has a delicious sauce that beautifully complements the spice.
Today, Ray's Hot Chicken has finally opened its very first dine-in/take-out branch in SM City Fairview and its first franchised store located in Project 8, Quezon City. It has also grown to 12 delivery-only locations all over Metro Manila.
On top of these developments, every month, Ray's Hot Chicken strives to create a new chicken sandwich flavor. They also have the "Hottie of the Month," wherein they collaborate with local hot sauce suppliers to be featured on their menu. "This is also our way to support local Filipino products," said Varona.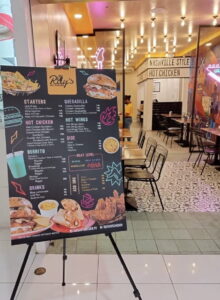 For September, Ray's Hot Chicken is proud to introduce its Hottie of the Month: Carolina Reaper Hot Chicken Sandwich. This is specially made to bring forth an extreme fiery sensation from the world's hottest pepper the Carolina Reaper.
September promos
Ray's Hot Chicken will also hold two promos for the whole month of September. The first one is the P149 Hot Chicken Sandwich Promo. To avail this, customers may show proof of any of the following: Liked, followed, and shared Facebook or Instagram post of the P149 promo post; or a personal Facebook or Instagram post or story tagging the
official Facebook, Instagram, or Tiktok accounts of Ray's. This is strictly valid for dine-in transactions only, with no minimum order required.
The other promo gives customers free side of their choice (Corn, Mac n' Cheese, Fries, or Nachos) per burger purchased. This is valid for orders made via GrabFood or FoodPanda, with no minimum order required.
The menu of Ray's Hot Chicken features core products such as its wide array of chicken sandwiches, hot wings, and burrito.
For more information and for franchise opportunities, you may visit its official Facebook page, RaysHotChicken); Tiktok account, @rayshotchicken; and Instagram page, rayshotchicken.ph.