Letsgoph.com | When the United Nations sought to develop initiatives to protect the environment, the 1987 Brundtland Commission defined the concept of sustainable development as "meeting the needs of the present generation without compromising the ability of future generations to meet their own needs." Organizations around the world strive to align their sustainability goals and strategies with this in mind.
For its long-term environmental, social, and governance (ESG) commitments, Pepsi-Cola Products Philippines, Inc. (PCCPI) is looking to the United Nations' Sustainable Development Goals (SDGs) as a reference. The company takes its role as a responsible environmental steward seriously, as it strives to manage its use of water, electricity, energy, and fuel in all its manufacturing facilities.
By upholding the three pillars of sustainability, namely Circular Economy, Water Stewardship, and Inclusive Business, PCPPI is committed to creating a positive impact on society with programs focused on environmental sustainability, nation-building, and inclusive development.
"For water, our target is to reduce usage by 10%; while for fuel, energy, and power, our goal is to reduce them by 4%. As of end-July this year, we have already reduced our total energy use by 1.5%, keeping us on track with our targets," said Director for Manufacturing Walton Firmeza.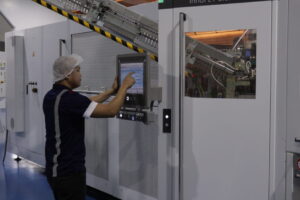 The organization's resource management policies are embodied in the Luntiang Yaman program, which focuses on five critical areas for environmental conservation and development; namely water usage reduction, electricity use optimization, fuel yield optimization, solid waste management, and community-building participation. These include the 3Rs approach to manage water consumption: reduce, re-use, and recycle.
As for reducing its energy consumption, PCPPI focused on shifting to renewable energy as it will install solar panels in select manufacturing facilities for the project's first phase. The move to solar power is seen to reduce the company's dependency on grid electricity produced from fossil fuels. With the shift, PCPPI is looking reduce use of grid electricity in select plants up to 30%, while a reduction of 8% is expected in the organization's total grid electricity usage.
"We assess our organizational priorities based on where we can make the most impact. Among the initiatives we have in place addresses our use of water and energy for our returnable glass bottles (RGB)," Firmeza said. "Our bottle washers consumes most of a facilities' energy. As such, we ensure that we use energy-efficient washers, conduct proper and regular maintenance, and train our teams on how they can help support our productivity goals," he added.
PCPPI's programs reinforce the company's sustainability agenda, in response to the global effort toward achieving the United Nations' SDGs, specifically contributing to the targets of SDG 7 (Affordable & Clean Energy) and 13 (Climate Action).
On track with its sustainability targets, PCPPI also strengthened its lightweighting efforts to reduce plastic content in its products and packaging. As the organization reported recently during its Annual Stockholders' Meeting, another milestone achieved in 2022 was volume reduction of carton material used in its packaging by 99.1 metric tons.
"Through these initiatives, we are able to reinforce our commitment to take action to protect our planet, while inspiring and empowering our people to do the same," said Frederick D. Ong, PCPPI President and Chief Executive Officer.
PCPPI is the exclusive manufacturer of PepsiCo beverages in the country. Other than Pepsi, it distributes well-loved brands such as Mountain Dew, 7-Up, Mirinda, Mug, Gatorade, Sting, Tropicana, Lipton Iced Tea, Milkis, Chum Churum Soonhari, and Premier Purified Water. For more information about PCPPI and its products, please visit www.pepsiphilippines.com. .