Letsgoph.com | Breast cancer awareness is one of the many advocacies of SM aimed at enabling spaces that care for the welfare of women. The SM Cares Pink Ribbon Day is held every October in observance of Breast Cancer Awareness Month.
Running since 2017, programs include access to free medical breast examination, motivational talks from breast cancer survivors, and breast cancer awareness forums with health experts, in partnership with the Philippine Breast Cancer Society and the Department of Health.
This year, SM will be supporting this advocacy through a Look Good, Feel Good campaign with The Estee Lauder Companies to promote how breast cancer patients are leading better, healthier lives, with a Pink Month kick-off this October 6, 2022. SM Cares will also continue its information, education, and communication campaign that will highlight the importance of early detection and breast cancer intervention.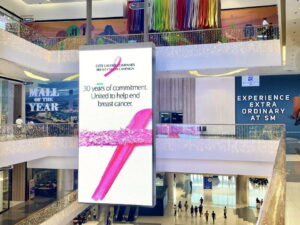 SM Cares is the Corporate Social Responsibility arm of SM Prime Holdings, with programs that support communities, promote social inclusion, and care for the environment. Aside from its programs to promote Women's Health and Resilience, its advocacies include programs for the Environment, Breastfeeding Mothers, Children & Youth, Persons with Disabilities, Senior Citizens, and the SM Bike-friendly initiative.
To learn more, visit www.smsupermalls.com/smcares.