Letsgoph.com | The partnership between SM Foundation (SMFI) and UNIQLO with its parent company Fast Retailing Co., in the promotion of health and wellness was strengthened as three more community health centers were inaugurated and turned over recently in the Bicol region.
The partners upgraded community health centers in Camarines Sur and Camarines Norte; the Angas Barangay Health Center in Basud, Camarines Norte, Cararayan Barangay Health Center in Naga City, Camarines Sur and the San Isidro Health Center in Baao, Camarines Sur. These Centers were likewise equipped with the necessary health apparatus, furniture, appliances, and vitamins and medicines.
Improved in the Centers were the Patients' Waiting lounge, Reception area, Consultation Room, Pre-natal and Treatment Room, Meeting Room with Pantry, Mobile Play Cabinet for Children, Under -5 Clinic, Breastfeeding Room, and Medicine Storage Cabinets. 
The region's geographical location makes it prone to natural calamities. To ensure the barangay health centers are ready for disasters and emergencies, SMFI and Uniqlo provided the centers with Emergency Go Kit+. The kits consisted of 
alcohol, bandages, scissors, BP monitors with stethoscope, burn ointment, cervical collar, cotton, disposable Ambu, elastic bandages, eye pad, flashlight, folding knife, gauze bandages, gauze pad, gloves vinyl, hot water bag, hydrogen peroxide, ice bag, Kelly forceps, lighter, N95 masks, micropore tape, oxygen tank with regulator, penlight, plastic Strips, pocket mask, Povidone Iodine, pulse oximeter, raincoat, rope, shear scissors, skin swab, sterile gloves, thermal blanket, thermal gun thermometer, thumb forceps, and triangular bandage.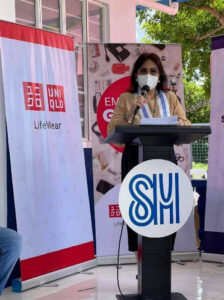 SMFI executive director for medical programs Connie Angeles said, "Health facilities play a very significant role in the mitigation of disasters because of their function in treating the injured and handling outbreaks of disease. In these trying times, we believe that health centers are vital for community surveillance and response."
"We need health centers in the countryside that are equipped to treat people with minor injuries, which is extremely useful to reduce congestion and referral to hospitals or other more sophisticated medical facilities," she added.
These community-based health facilities provide basic health services, maternal and child health care, immunization, vaccination for senior citizens, family planning, first aid, and follow-up treatment for communicable diseases like Tuberculosis. The health centers will also be venues for the COVID-19 vaccination program. 
The Angas Barangay Health Center is a 100 sq. meter one-story health facility constructed through the efforts of the Based local government unit. Despite being an unfinished building because of a limited budget, it was still utilized as a health center. Its roof was damaged by strong typhoons. With the renovation done by SM Foundation and Uniqlo, it is now a modern health center. It is the 8th Uniqlo – SM Foundation renovated health facility. Mayor Adrian Davoco of Basud, Camarines Norte graced the turn-over rites as well as Barangay Captain Salvador Bartolome, Jr. of Angas, Basud, Camarines Norte. The Center was blessed by Fr. Noel Domingo of the Parish of Our Mother Perpetual Help.
In Naga City, the Cararayan Barangay Health Center became the 9th Uniqlo- SM Foundation renovate a health facility. Also, a one-storey building, it has a floor area of 95 sq. meters. It was constructed on December 19, 1990, through the efforts of the late city mayor Jessie Robredo.
Aside from the SM Foundation team, Uniqlo representatives, Georgette B. Jalasco, Vice President for Marketing and Reiny Vergara, Public Relations & Sustainability Head, attended the inaugural ceremonies. Naga Mayor Nelson Legacion together with Vice Mayor Nene De Asis, city councilors and Cararayan Barangay Captain, Rodrigo Agravante Jr., were also present.
Meanwhile, in Baao, Camarines Sur, the San Isidro Barangay Health Center was vacated for almost three years because it was totally devastated by Typhoon Ulysses in November 2020. The two-story, 110 sq. meter health facility is now fully operational after its renovation by SM Foundation and Uniqlo. It is the 10th Uniqlo – SM Foundation renovated health facility to date. In attendance at the inauguration were Vice Governor Salvio Fortuno Jr. and Baao Mayor Jeffrey Besinio, Baao Health Officer Dra. Marian Margate and Barangay Captain Filomena Galicia, among others.
SMFI and UNIQLO are set to turn over other upgraded health centers across the country in the coming months under this collaboration. It can be recalled that last year, SMFI and UNIQLO also partnered to renovate seven community health centers (Rodriguez, Rizal, Marikina City, Cauayan Isabela, 2 in Tuguegarao, Bula, Camarines Sur and Tiwi, Albay) which are all now being utilized for basic medical needs and emergency responses.
According to Angeles, SMFI believes that working alone as a single entity yields lesser benefits than when working together as a team. "There is much more that needs to be done, but with partners like UNIQLO, we at SM Foundation are confident that we will be able to attain our social good goals sooner rather than later. Thank you, UNIQLO, for spreading social good with us!"
SMFI, through its Health and Medical Programs, upgrades public health centers in its host communities, complemented by its medical caravans across the country. To date, it has renovated more than 170 health and wellness centers and served almost 1.2 million patients during its medical missions.