Letsgoph.com | Daet resident and 4Ps beneficiary Melanie Gregorio has been suffering from stomach pains that sometimes lead to difficulty in breathing. Without worrying about the expenses, she had a free medical check-up and was given medicines during SM Foundation's (SMFI) medical and diagnostic mission.
Gregorio was just one of the more than 800 patients who were served by the mission of SMFI at two separate locations in the Bicol region–SM City Daet and SM City Naga–last September.
To serve the communities in the area, SMFI's mobile clinic and its social good team traveled more than 300 kilometers south of Metro Manila.
A journey worth every mile, SMFI successfully conducted medical and dental mission – with free diagnostic services such as x-ray, ECGs, blood sugar, cholesterol, uric and hemoglobin tests to name a few.
60 kilometers from Daet, about 500 patients received the same free medical services at SM City Naga. Among them are 53-year-old Tessie Talagtag and 69-year-old Adelaida Medado.
Talagtag was diagnosed with ulcers and is suffering from hearing loss, while Medado has been experiencing coughs for a month. The two were attended by SMFI's Senior Project Manager, Dr. Bless Bertos and a team of doctors led by Dr. Joframel Paz, President of the Philippine Academy of Family Physicians, Camarines Sur Chapter.
Uniting for a purpose
Known to ignite bayanihan at the heart of each SMFI mission, this endeavor was no exception. The spirit of camaraderie was on full display as volunteer medical and health professionals from the private and public sectors actively lent a hand in the vital signs, diagnosis dispensing, and other areas.
Volunteer medical professionals from the Daet Municipal Health Office and Rural Health Unit 3 were present to extend their support. These volunteers are also part of the Resbakuna program of the LGU. Aside from the Daet Municipal Health Office, other partners were Camarines Norte Provincial Hospital, DSWD V-4Ps, Philippine Red Cross-Camarines Norte Chapter, and Philippine Army, 9ID.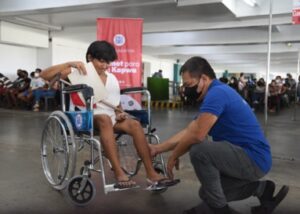 Naga City Health Office; Philippine Army,9ID; Ideal Vision, SM Naga Branch; DSWD V- DSWD V-4Ps were also key partners of the initiative.
Aside from the medical missions and engagement of community partners, it can also be recalled that SMFI, together with Uniqlo Philippines just upgraded three community health centers in Barangay Angas, Basud, Camarines Norte; Barangay Cararayan in Naga City, Camarines Sur; and Barangay San Isidro, Baao, Camarines Sur.
SMFI, through its Health and Medical Programs, upgrades public health centers in its host communities, complemented by its medical caravans across the country. To date, it has renovated more than 170 health and wellness centers and served almost 1.2 million patients during its medical missions.