Letsgoph.com | This coming April 22 and 23, 2023, Chef Jose Villareal of Amah Restaurant in Taguig City will lead his team of fellow student-chefs for a dream collaboration with Chef Donovan Cooke from Melbourne, Australia.
The 2-night dinner event will feature 14 specially-curated gourmet courses from Chef Donovan's menu, to be prepared by Chef Jose and his Amah team, under the supervision of Chef Donovan himself. Highlighting the intimate and private ambiance of the restaurant, as well as to ensure proper service of the exclusive menu, the dinner will be served in two covers following pre-event cocktails for each night. The first cover will be from 5:30pm to 8:30pm, and the second cover will be from 9:00pm until 12 midnight.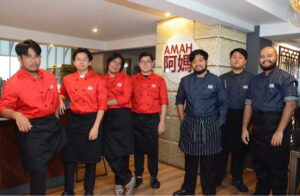 "This is such an honor for Amah and a great treat for our clientele," Chef Jose shares. "We are so excited to have this opportunity to actually work in the same kitchen as Chef Donovan and to have him guide us as we prepare dishes he developed. It's definitely going to be a major milestone for all of us at Amah. And our guests for those two nights will be so lucky for the experience that's in store."
Chef Donovan Cooke is just as excited about the dinner event. "These young chefs are very dedicated and passionate about their craft. They could have taken it easy during the pandemic, found an excuse to just lay around and rest like many of us did during the lockdowns. But they forged ahead because they're all determined to continue learning and honing their talents. It's my privilege to be one of their mentors, to encourage them as they make their marks in the
business."
Amah Restaurant first opened its doors to the public in 2021, but is already quickly becoming popular among foodies and food vloggers due to its delicious and unique homestyle Filipino- Chinese dishes. The young chefs make it a point to use local ingredients and put their own unique twists to heirloom recipes. The venue itself is a hidden gem within Taguig City, begging for repeat visits because guests are treated to a magnificent view of the Makati and BGC cityscapes. Sunsets are definitely amazing on the upper roofdeck, making it a favorite for engagement proposals, anniversaries, and other special occasions.
Seats are almost sold-out for the 14-course collaborative dinners on April 22 and 23, but you may still make inquiries or reservations through their website at www.heirloomamah.com/reserveme. For more details about the dinner event and about Ama 27 F. Segundo St., AFPOVAI Phase 4, Taguig City, Metro Manila restaurant, please refer to Amah's FB page (https://www.facebook.com/HeirloomAMAH) or IG account (https://www.instagram.com/heirloomamah/).
Heirloom AMAH is open Tuesdays to Fridays from 5:00pm to 10:00pm, and Saturdays and Sundays from 11:00am to 10:00pm. It is located at 27 F. Segundo St, AFPOVAI 4, Western Bicutan, Taguig City. (IDs are required to go inside the village.) You may also make reservations through the Amah website: www.heirloomamah.com/reserveme or call them through CP#s 0998-9721198 or 0917-8235890.