Letsgoph.com | Your favorite creative studio concept for your social media content is back at SM City Fairview. This time, your pet is the superstar at the Creator Studio for Pets at the Mall's Upper Ground Level, Central Walk.
Snap a PAWs, enjoy the FURRY fun moment or showcase your pet's amazing personality in a fun, unique, interactive, and creative space for your FUR babies and buddies at the Creator Studio for Pets PAWtraction.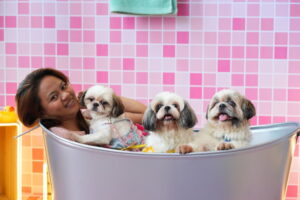 The PAWtraction features (4) four different unique themed studios: the Beach Studio, Celebrate with Me Studio, sPAWtlight Studio, and Bath Time Studio.
With summer on the horizon, The Beach Studio brings summer to the city as pets bask in the sun in a giant chair. Don't forget to dress up your pals' summer perfect OOTD fashion.
Get the party started and surround your FUR babies and buddies with aweSM gift boxes and colorful party balloons in the Celebrate with Me Studio during their BARKday. Capture that memorable milestone and special pet love moment.
Choose a PAWfect color background and cute fun props at the sPAWtlight Studio to unleash the unique FURsonality of your PAW babies and buddies. Let your pet take the sPAWtlight and shine like a superstar. Show your followers their trending tricks and moves.
Take a quick dip in a big tub to create a PawSM photo shoot experience at the Bath Time Studio.
Each studio is equipped with fun props, a camera stand, a ring light, lightbox so you can capture the PAWfect moments of your adorable FUR-pets and create the perfect Instagram-worthy photos or entertaining TikTok videos. Access to the studios is free for as long you are a member of SM SUPER PETS CLUB.  Be a member of the SM SUPER PETS CLUB at www.smsuperpetsclub.com
See you and enjoy the FURRY and #PawFectMomentsAtSM City Fairview Creator Studio for Pets.