Support your kids' immunity with Tang, fortified with Vitamins C, D, and Zinc. Help them become mas-strong and mas-ready to face life's challenges!
Provide nourishment for your kids' health so they don't miss out on meaningful experiences.
Letsgoph.com | The last few years have highlighted the need for better health and well-being for the family. The world has become difficult for children to flourish; kids miss out on countless opportunities to create rich and meaningful experiences, and so vitamins that support kids' holistic health have never been more important. Moms need that extra reassurance for their kids to stay strong and face the world, so children can actively go out and participate in meaningful moments that prepare them for a better future.
The Tang Approach to Refreshing Nutrition
The #1 Powdered Beverage Brand – Tang, finds ways to always address the consumers' needs in mind. The NEW and IMPROVED formulation of Tang, fortified with Vitamins C, D, and Zinc will be available in all 22 flavors–with Orange, Pineapple, Dalandan, Mango, Grape, Calamansi, and Strawberry already available in the market. Siksik with Vitamins C, D, and Zinc, Tang's newest formula helps moms gain confidence in knowing that they're able to give their kids the right drink, at the right moment, made the right way.  By helping kids become holistically strong and healthy, their adventurous nature can thrive–allowing them to actively participate in worthwhile moments that help prepare them for a better future.
"Tang is always testing new ideas to innovate the way we snack. We invest in understanding our consumers' needs while exploring opportunities in broader snacking categories," shares Chelsea Chu, Brand Manager for Tang of Mondelēz International in the Philippines. "For five decades, Tang has been a beloved household beverage enjoyed by moms and kids. It's no longer enough that powdered beverages are delicious, but they must be nutritious too," Chelsea adds. "Tang is the product of understanding consumers' needs and preferences. What we consume plays a massive role in our daily lives. It's important to give families peace of mind in consuming products they trust,"
"To lead the future of snacking, brands like ours must grow. We want to continue to win in this space, and that starts with being agile and critical innovators who listen and empathize with the consumers," she concludes.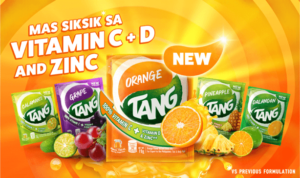 Consumer-driven Growth
According to the latest State of Snacking Report, the top motivator for consumers in relation to snack and beverage choices are finding options that take care of their body while serving nutritional needs. There's a rising appetite for functional snacks that boost immunity and are vitamin rich. Additionally, well-being is a priority for consumers globally, however, many embrace a broader definition of nourishment; particularly, areas of physical (80%), mental (75%), and emotional (80%) health. It's no longer enough that snacks are convenient and delicious, but people want snacks that support their healthy, active, and busy lifestyles. Most consumers acknowledge the benefits of both function and indulgence, stating that it's important for their diet to include varieties of food that are good for nutrition, as well as satisfaction. Nowadays, it's both a source of nutrition and indulgence, of social connection, inspiration, and purpose.
These insights are from the 2021 State of Snacking Report commissioned by Tang's parent company Mondelēz International, compiled by the Harris Poll and Next Atlas. The report highlights the overall expanding role that snacking plays in the lives of consumers, that supports the company's Snacking Made Right agenda.
Tang is committed to understanding consumers' needs and lifestyles. Knowing what they know now, the brand aims to continue being consistent in delivering better quality and taste. The new and improved version of Tang loaded with more nutrients was launched in September of 2022, with the goal of helping consumers make better snacking choices. Tang reminds parents to choose nutritious options that help their kids grow up to become strong and ready, so they don't miss out on meaningful opportunities.
You may browse through the Tang catalog and purchase products on Shopee and Lazada! Add to cart and check out today on Lazada and Shopee.