Letsgoph.com | The spirit of bayanihan ignites unabated within Pepsi-Cola Products Philippines, Inc. (PCPPI), as the Company joined the Department of Education (DepEd) in its annual Brigada Eskwela program. This is to help public schools prepare for the resumption of in-person classes after a two-year halt due to the pandemic.
"At PCPPI, we understand the value of creating a positive learning environment, especially in the post-pandemic times. We are committed to help DepEd in achieving this as its partner. As our learners march back to school this year, we are optimistic that our endeavors will inspire and encourage them to do their best in the classroom so they can achieve their personal dreams," said Frederick D. Ong, PCPPI President and chief executive officer.
Led by its volunteerism arm, Bukluran Council, PCPPI adopted more schools this year. It grew to 37 beneficiaries from last year's 24. The beneficiary schools belong to communities across the country that host its various manufacturing plants and offices. This includes Manila, Muntinlupa, Mandaluyong, Batangas, Pampanga, La Union, Cagayan Valley, Bicol, Leyte, Bacolod, Iloilo, Cebu, Zamboanga, Cagayan De Oro, and Davao.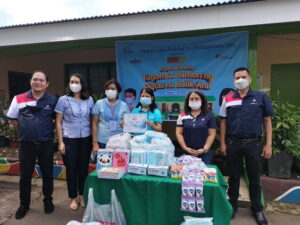 PCPPI mobilized more than 150 Braveheart volunteers. They donated hydration drinks, school supplies, health and safety supplies, and other school materials.
"Seeing our colleagues bound together by their love for helping others truly fills our hearts with pride. We are proud to share that all our units participated in our donation drives. We are grateful for their support and cooperation in our mission to provide a conducive learning environment for our students," Ong added.
PCPPI, the exclusive manufacturer of well-known beverage brands like Pepsi-Cola, Mug Root Beer, 7-Up, Mirinda, Gatorade, Tropicana, Lipton, Sting, Premier, Milkis, and Aquafina, has been actively supporting Brigada Eskwela since 2018.