Letsgoph.com | Another partnership for social good, SM Foundation Inc. (SMFI) and Japanese global apparel retailer Uniqlo Philippines turned over hand washing facility to Masamat Elementary School (MES) in Mexico Pampanga last January.
The advocacy to good hand washing is important in schools to deliver hygiene promotion activities. Students' awareness in becoming hygiene champions are their first line of defense against the spread of many illnesses — from the common cold to more serious infections.
During the ceremony, selected MES pupils from Grades 4, 5, and 6 joined in with School Head Lowie Lupos and SMFI Assistant Vice President for Outreach Programs Cristina Angeles with SM Senior Assistant Vice President for North Luzon Engr. Junias Eusebio and SM City Pampanga Mall Manager Mr. Aaron Montenegro.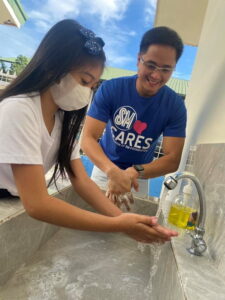 Apart from the turn-over ceremony, SMFI awarded the winners of the Mural Contest with the theme "How to take care of the Earth and become more sustainable." Winner of the mural contest in 3rd Place is Rhea Joy Bucton with coach teacher Mario Taguinod, at 2nd Place is Clifford Enzo Simoy with coach teacher Cristina Ruiz and for the 1st Place is Andreah Rayne Simoy with coach teacher Lodivina Aguilar.
"It's fun doing hand washing together. It's important that the students build that habit in their early age," says Eusebio. He stresses that SM Foundation in collaboration with Uniqlo Philippines is committed to building a sustainable community by upgrading school facilities.
On the other hand, Angeles commended the school officials for providing quality education and partnering with SM Foundation for the improvement of its facilities and services. "Kung magagaling ang namumuno, magaling ang sumusubaybay," Angeles said.
Masamat Elementary School Head Lowie Lupos emphasized that through the strong partnership and collaboration between the school and SM Foundation, students can attain equity and resiliency to become 21st century learners who are ready for any adversaries of life.
Lupos expressed his warmest gratitude to SM Foundation. "Their social responsibility and commitment are the reflection of true humanity. Kung para sa iba, ang ibig sabihin ng SM ay Supermalls, para sa amin sa Masamat, ang SM ay Super Mapagmahal, Super Maalaga."
The SM Foundation Inc. and Uniqlo Philippines firmly advocates for health and wellness in grassroots communities.
###