Letsgoph.com | Home Credit Philippines, the country's leading consumer finance company, in partnership with Overseas Workers Welfare Association (OWWA), honored the heroes of the modern age, the Overseas Filipino Workers (OFWs), during the OFW Family Day Caravan in Western Visayas.
The two-week-long caravan was attended by over 2,000 OFWs and OFW associations combined from the provinces of Antique, Capiz, Guimaras, Iloilo, and Negros Occidental. The program aimed to create an avenue for the OFWs and their families to reconnect and spend quality time with their loved ones.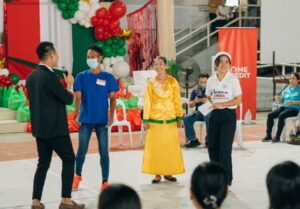 Aside from family bonding activities, the caravan also opened conversations on financial literacy and education, addressing the common problems of OFWs spending years working abroad only to come home with little to no savings.
"Our main goal for the caravan was to show appreciation for the Filipino migrant workers. We want to empower them to make informed decisions on how to spend and manage their hard-earned money from working overseas. We at OWWA Region 6 support our OFWs all the way, and we want them to succeed and secure a better life for themselves and their families," said Rizza Joy Moldes, OWWA Region 6 OIC director.
LINK TO THE OFW FAMILY DAY CARAVAN: https://www.youtube.com/watch?v=wj36SO_GCfI&t=1s
Throughout the caravan, Home Credit led the discussions on the basics of budgeting and saving as part of its advocacy program to promote financial literacy across the country. The OFWs were also given knowledge on safe consumer finance options they could explore while protecting themselves and their families from bad debts and financial risks.
"We at Home Credit honor the modern-day heroes of our country. They are an inspiration to many Filipinos as they serve as examples of strength and perseverance. As they strive to make ends meet for their families, we are committed to providing them with the proper knowledge to handle their finances to avoid financial mismanagement and risks. We will continue to support the OFWs and be their trusted ally Para sa Life," shares Sheila Paul, Home Credit's chief marketing officer.