Letsgoph.com | EUROTEL, one of the fastest growing hotel chains in the country, recently signed a contract with Mr. Jhonwel Reyes, a.k.a Tito Noel, the viral "Green Soldier" mime performer from Baguio City, as its newest Brand Ambassador for Social Media. The contract signing, held last July 27, was graced by Green Soldier himself (center) and Eurotel's key officers (from left to right), namely, Ms. Sue Geminiano, Marketing Head, Mr. Ronaldo Sebastian, Sector Head, and Ms. Mariel Quinto, Ads & Promo Manager.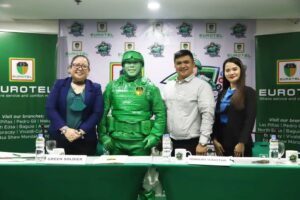 Eurotel is a unique European-inspired hotel in the heart of the major cities of Metro Manila and top tourist areas in the Philippines that was established in 2005. It is popular for its European-style room interiors, excellent service of international standards, and warm and fun Filipino hospitality.
Eurotel's new social media campaign, called "EUR Green Soldier," aptly reinforces these core offerings of the hotel. "Eurotel has been known for its affordable high-standard services. With our new campaign, we are reinforcing Eurotel as the best choice of hotel for all different types of guests because it provides a comfortable and relaxing experience with our complete amenities and friendly and efficient hotel staff. The Green Soldier, being a fun and loveable personality, embodies a part of what Eurotel wishes to impart to the public ", Mr. Sebastian said.
Tito Noel, on the other hand, proudly said that his character and Eurotel's objectives are very much aligned and that he will do his best to live up to Eurotel's image. The Green Soldier has 1M and 900,000 followers on Facebook and Tiktok, respectively.
To bring Eurotel closer to the hearts of everybody, the Green Soldier will visit Eurotel branches located in Las Piñas, Pedro Gil, Makati, North Edsa, Baguio, Angeles, Boracay, Vivaldi, EDSA Shaw on various occasions for a fun-filled meet and greet with hotel guests and his fans.
Eurotel is a classy and affordable haven that meets every need of a sophisticated guest or a modern traveler; it also provides a distinctive and memorable experience on its own.