Letsgoph.com | Starting September 15, motorists can fuel up and tune up at Astral Fuel Station Lipa City.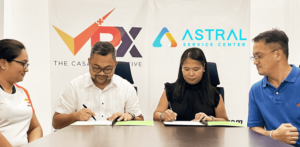 ValuePlus Auto Service Express (VPX), the franchising brand of ValuePlus Auto Services Philippines, Inc., and Astral Fuel Corporation, an innovative player in the retail fuel industry, have recently signed a co-branding partnership to provide motorists in Lipa City with one-stop auto services, from fueling up to tuning up.
With this partnership, Astral Fuel's customers will be able to access ValuePlus' top-of-the-line auto repair and maintenance services, including preventive maintenance, oil service, mechanical and electrical repairs, wheel alignment, and tire services at the Astral Service Center Powered by VPX. So, aside from refilling their fuel, drivers can have their cars checked at one stop, saving them money and time.
This partnership paves the way for ValuePlus to serve more customers in Batangas province. In June 2021, ValuePlus opened its branch in Libjo, Batangas City through its franchise partnership with Jandusay and Sons. This is ValuePlus' fourth branch in the country, with the other two in Metro Manila and one in Sorsogon in Bicol province.
Mark Saberola, General Manager of ValuePlus, said of the co-branding partnership: "We are delighted to partner with Astral Fuel to provide more customers with ease and convenience. By bringing our car maintenance and repair services to the gas station, we help the drivers maximize their time and ensure smooth and safe travel."
The tie-up with Astral Fuel also marks a new milestone for VPX as its first co-branding partnership. The co-branding partnership is a new hybrid program offered by VPX to provide independent fuel companies and homegrown car repair shops with a more accessible option to carry and offer ValuePlus' auto repair and maintenance services.
This year, VPX aims to bring its co-branding partnership program to more fuel retailers in the country, like Astral Fuel.
Amalyn Penix, Operation Director of Astral Fuel, remarked: "When we were seeking a partner for this endeavor, ValuePlus became our top choice. The company has a strong reputation for its quality services and after-sales care. We believe in providing our customers with the highest quality fuel products and services. ValuePlus is very much aligned with what we believe our customers deserve."
Motorists in Lipa City can start fueling up and tuning up at Astral Fuel Station Lipa City on September 15. Drivers may schedule or inquire about auto care services on ValuePlus' website www.valueplusph.com or contact them via email at lipa@valueplusph.com or mobile at 0917-637-2122. If you want to learn more about VPX's co-branding partnership program, contact 0917-637-2085.
Astral Fuel brings Astral Hub to Lipa City
While waiting for their cars being serviced at VPX Astral Service Center, customers can visit the Astral Hub which offers a wide range of services all in one place, including a drugstore, motorcycle shop, medical clinic, and diagnostic center, among others.
Committed to bringing convenience to every Juan in the community, the Astral Hub in Lipa City is Astral Fuel's first of several hubs being planned to open in Luzon in the near future.