Letsgoph.com | Grab Philippines—with the support of DOLE, TESDA, and key government agencies—donates 30 new bikes for rider-beneficiaries to start their journey as rider-partners on the platform
11 August 2022, MANILA, Philippines— Grab Philippines – together with the Department of
Labor and Employment (DOLE), the Technical Education and Skills Development Authority
(TESDA), and the Land Transportation Office (LTO), launches the pilot run of the Daan ng
Natigil, an economic empowerment program for Filipino out-of-school youths. Through this
program, Grab Philippines will provide out-of-school youths access to meaningful livelihood
opportunities, upskilling initiatives, as well as perks and benefits – giving them a greater chance to achieve their life-long goals and aspirations.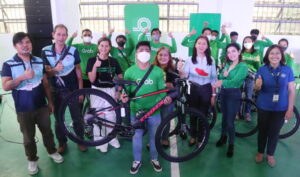 Thirty out-of-school youth beneficiaries from the Philippine Commission for the Urban Poor
(PCUP) will each receive a brand new bike from Grab Philippines, and will then be immediately onboarded and trained as Grab delivery-partners.
With the support of key government agencies such as the Department of Labor and
Employment (DOLE), the Technical Education and Skills Development Authority (TESDA),
and the Land Transportation Office (LTO)—Grab leverages its technology and network to
support the beneficiaries' longer-term success by helping them make the most of their earnings while providing support and skills development. Grab is working with TESDA for upskilling programs that includes training and non-training certifications that enhance beneficiaries' competitiveness in today's digital economy, while the Land Transportation Office (LTO) has provided an express lane for the processing of professional driver's license in its Extension Office in Cainta, Rizal.
The event also saw the attendance of DOLE Assistant Secretary Dominique Rubia – Tutay of
the Workers Welfare and Protection Group, PCUP-RPMD Chief Elsie A. Aradanas, and a
special video message from Senate Majority leader Joel "TESDAMAN" Villanueva, who
expressed encouragement and support to the beneficiaries of the program.
DOLE Asec. Dominique Rubia-Tutay congratulated Grab for launching the program,
emphasizing how the company has been assisting the Philippine government recover from the ill-effects of the Covid pandemic. "Tayo po ay tuloy-tuloy sa ating recovery process, and this opportunity is really very noble kasi hindi lamang negosyo, pero eventually pati na rin po trabaho at syempre po, yung skills training which is an added element in the recovery process," the assistant secretary said in her message of support during the launch event.

Grab Philippines has also designed a Livelihood Booster Kit for all Daan ng Natigil
Beneficiaries which includes the following:
1. End-to-end onboarding assistance: During their onboarding, beneficiaries will be
provided with end-to-end assistance in processing their professional driver's license at
the LTO Cainta Extension Office, and can seek help in securing documentary
requirements and compliance certificates like vehicle registration, Drug Testing, NBI
Clearance, and proof of vaccination.
2. Exclusive perks and benefits: Discounts on fuel and other merchandise are also
available for rider-partners participating in the Daan ng Natigil Program to aid in their
day-to-day expenses. Exclusive promos and bank financing with partner dealerships and
stores are also available.
3. Providing emergency support for driver and rider-partners and their dependents
through the GrabCare Package: Beneficiaries will be eligible to receive the GrabCare
Package – which includes calamity assistance, accident insurance, Emergency Top-Up
of GrabPay Wallet, Burial Assistance, as well as Educational Assistance for
scholar-dependents.
4. Supporting skills development through training programs: All Daan ng Natigil
beneficiaries will gain access to various upskilling programs offered by GrabAcademy in
partnership with Microsoft and TESDA. These upskilling programs include training and
non-training certifications to help enhance the beneficiaries' competitiveness in today's
digital economy.
Senate Majority Leader Joel Villanueva expressed gratitude to Grab for assisting the
Philippine government in the delivery of goods and services during the pandemic, and for
headlining the Daan ng Natigil program for OSYs. "Nais po nating pasalamatan ang Grab sa
ambag po ninyo sa kabuhayan ng maraming Pilipino, lalo na po sa panahon ng krisis at
pandemya kung saan nagpatuloy ang daloy ng goods and services at upang makapag-work
from home ang ating mga manggagawa. As Grab Drivers, you braved the roads during the
pandemic so that other Filipinos could safely stay at home," the senator said.
"Education plays a vital role in our labor and economic competitiveness, however, many
Filipinos are unable to complete their education due to financial hardships and personal
circumstances. Through the years, Grab Philippines has provided countless driver- and
delivery-partners access to meaningful livelihood opportunities – allowing them to finish their studies while supporting their families from their earnings on the platform. Daan Ng Natigil is one of the many expressions of our long-standing commitment to making every Filipino's life better through our platform, and we look forward to helping more Filipinos complete their education and live a better and more prosperous life with the help of our platform," said Grab Philippines Country Head Grace Vera Cruz.