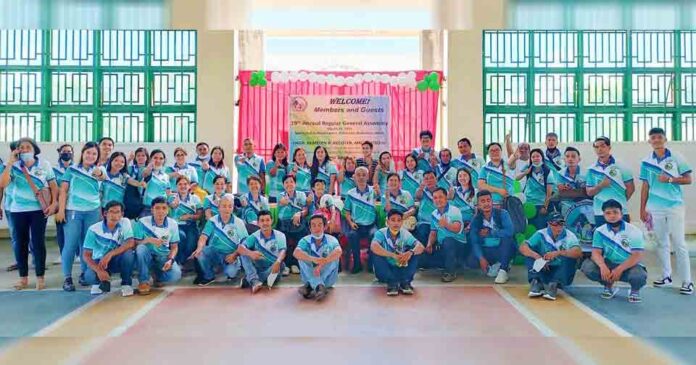 Letsgoph.com | NUMANCIA, Aklan – From a barangay-based cooperative with only 23 members and P2,500.00 as starting capital in 2003, the Integrated Barangays of Numancia Multi-Purpose Cooperative (IBON MPC) has since transformed into a region-based development cooperative servicing the financial needs of over 7,200 farmer-members from Western Visayas.
With credit support from Land Bank of the Philippines (LANDBANK), IBON MPC continues to expand its lending operations, which account for nearly three-fourths of the co-op's income.
The IBON MPC first availed of a P1-million rediscounting loan from LANDBANK in 2006 to augment the working capital requirements of its borrowers. With operations improving through the years, the co-op was able to bolster its borrowing capacity. And in 2021, it successfully negotiated a renewed loan line of P60 million or 193% higher than its initial loan 15 years ago.
LANDBANK's continuing support allowed IBON MPC to reach and help more farmers in Aklan and neighboring provinces by providing affordable and accessible financing for the purchase of farm inputs, labor, and other production requirements.
The co-op's farmer-members are no longer dependent on unfair arrangements with local moneylenders who practice the "alili system," where borrowers pay loans with their produce worth over three times the borrowed amount.
"LANDBANK has always counted on cooperatives as allies on the ground to serve small farmers and fishers, and advance development in the countryside. We remain committed to providing cooperatives with the necessary financial assistance to help sustain and expand their operations and ensure food security for the nation," said LANDBANK President and CEO Cecilia C. Borromeo.
Aside from being LANDBANK's effective conduit in providing financial support to small farmers, the IBON MPC has also been helping to improve the entire agricultural value chain in the region. It is now engaged in pre- and post-harvest services, such as land preparation, crop establishment, harvesting, drying and milling services; trading of palay, rice and agricultural inputs; and operation of agri-venture stores across Aklan.
The co-op also recently ventured into organic vegetable farming, chicken egg production, native chicken raising, goat raising, and inland fish culture to provide members with additional and alternative sources of livelihood.
"LANDBANK has provided us the capacity to sustain and expand our operations over the years. Sa mga panahong kailangan namin ng financial resources, nandiyan sila at madaling lapitan. I hope LANDBANK will continue to support the rural sector, especially the small farmers and fishers," said IBON MPC General Manager Arnulfo T. Magcope.
LANDBANK continues to extend intensified support to cooperatives nationwide to ramp up efforts and initiatives promoting inclusive and sustainable development. As of end-June 2022, LANDBANK's outstanding loans to the cooperative sector have reached P59.82 billion.
# # #
Please refer to:
Corporate Affairs Group
Land Bank of the Philippines
8-405-7183; 8-405-7634; 0915-601-2505