Letsgoph.com | In line with the goal of Vice President and Education Secretary Sara Duterte to upgrade the educational system by leveraging on technology, one school in Bantayan Island, Cebu is a step closer to realizing this goal.
In partnership with e-DRIS Inc., Subway® Philippines delivered the School in a Box digital system to Patao National High School in Bantayan Island, Cebu. Patao is one of the far-flung barangays of Bantayan, Cebu. Identified as one of the Department of Education's (DepEd) last mile schools, the school can be reached after four hours of land trip, an hour ferry trip and another hour trip from the main port of Bantayan.
The School in a Box system is a micro-cloud system that can provide for the creation, selection, curation and distribution of tens of thousands of updated relevant content to thousands of users at a time. For teachers and students alike, it is also embedded with the Foundation Learning Management System to make the e-learning process a productive and quantifiable process. Moreover, these e-learning content and modules are made accessible to students and teachers online or with intermittent connection or no internet connectivity at all. This innovative platform is definitely a game changer for the last mile schools and those located in internet – challenged areas.
EDRIS emphasize that the program will allow access to educational modules, interactive lessons, simulated videos, reference materials comprising of a vast array of knowledge for Grade 1 to Grade 12 students through online and offline connectivity.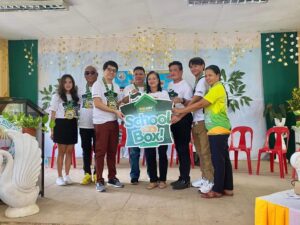 "Content in the form of texts and other resources can be centrally curated in the C3 Cloud Control portal by those responsible for curriculum and distributed to any authorized C3 Micro-Cloud, " explained Ermelo Ranola COO of e-DRIS Inc.
During the turnover ceremony, Patao National High School Principal Victor S. Ungod said the arrival of the system was very timely and that it would help fill in the gaps for students who are behind in their lessons.
"The School in the Box program can enhance the learnings of the students and in fact we or the students have benefitted from this because we are in the process of exploring the contents of this device. We are very thankful for this because we are the very first recipient of this program," Ungod said.
For his part, Subway® Philippines Marketing Manager Joshua Wahiman reaffirmed Subway's promise of being the better choice for everyone, not just in serving fresh and healthy foods but also in amplifying the importance of education and how a healthier approach in learning can maximize the potential of students regardless of their location.
"We are delighted that we are able to empower the community and this last mile school with this School in a Box device. As we want to highlight all the better for your meals from Subway, we also want to highlight or bring about a healthier approach and, in terms of their studies, would be better in their field before they go out into the real world," he said.